Posted by Matt Pisarcik on 29th Sep 2014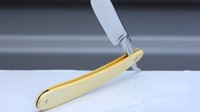 It's easier than ever to get your straight razor a new pair of handles! Visit our updated Straight Razor Restoration page and configure your own custom scales! Choose from Horn, Acrylic or Wood and 8 great shapes to order online today!
https://www.razoremporium.com/straight-razor-restoration-honing/
WHAT WE DO
Our Straight Razor Restoration Service is the perfect solution for daily shavers and heirloom razors alike. Whether you want a shave-ready straight razor or museum quality keepsafe, we are committed to preserving history and helping you get the most from your wet shave experience.
HOW IT WORKS
Each straight edge razor is assessed for its specific needs. To safely remove afflicted metal during polishing, our team uses specialized compounds and rouges. Our experienced staff, safely maintain the integrity of your steel while buffing and polishing your razor and scales to look their best. This process removes pitting, rust, patina and damage, leaving the metal clean and hygienic.
We work to restore and preserve the original handles (scales) and will polish them to look their best. However, scales that have been contributing to rusting the blade are now removed and replaced with handcrafted custom scales designed by you if need be. Our website makes ordering custom scales easy by standardizing shapes, materials, and cost. Just select your options above and get a preview of what your straight razor will look like.
For that close shave, razors now move on to the sharpening process wherein our in-house Hone-Meister Eric takes them through an individualized stone progression. With an easel of over 12 stones to choose from; natural to synthetic, coticule to Chosera, exotic Japanese stones like Naniwa to tried and true performers like Norton, we have everything needed to give you the keenest edge you've ever experienced.
WHY IT MATTERS
Our Straight Razor Restoration Service was created with two purposes in mind: the everyday wet shaver that wants clean steel, beautiful custom scales, and the sharpest shaving edge; as well as the family heirloom straight razor, ready to be passed down to future generations, perfectly preserved in museum quality condition. Shave clubs, cartridge razors, and even safety razors pale in comparison to a sharp straight razor.
INSTRUCTIONS
"Add to Cart" this service, check-out and make payment.
Download and fill out the Revamp Service form that will be included in your emailed invoice.
Send in your razor however you choose - USPS Small Flat Rate box is our recommendation.
We'll let you know when we receive your razor and keep you updated during the process.
Our turn-around time is 7-10 days once we receive your razor.
OUR GUARANTEE
We promise to deliver to you a Sharp Shave Ready razor that has been polished, sharpened, sanitized and oiled. We guarantee our straight razor service work for 3 months from the date we ship it back to you, giving you the confidence to enjoy using a quality vintage razor! Please CONTACT US with any other questions!