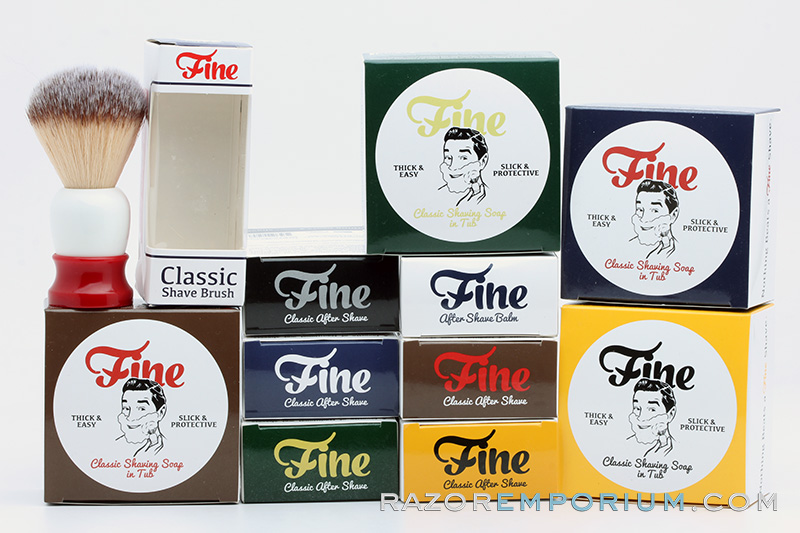 Fine Accoutrements is brand we are thrilled to bring on board! After years of seeing them in your Shave of the Days and hearing how great they performed.. we had to give them a try. Wow, the triple milled tallow formula shaving soap is creamy and thick. It absolutely loves water and provides a smooth comforting shave. The scents are mature, classic, and masculine. Rather than a "stick of deodorant" manly smell, these scents are refined but never pretentious.
Mr. Fine was inspired by an article in 2005 and wanted to discover if this antique way of shaving could really be cheaper, smoother, and more enjoyable... spoiler alert: IT IS! He fell in love with aftershaves and attempted to make his own. After experimenting for years he crafted a formula he thought was so good it had to be shared. Only four ingredients, this aftershave is an amazing performer and we are so happy to offer this line to you!
Inspired by the manly traditions of the past, Fine Accoutrements' message aligns so beautifully with our own vintage mindset, we hope you love them as much as we do!
Soaps:
Tallow Base
Triple Milled for Less Water Weight and More Lathers Per Ounce
Performs in Hard Water
Contains No Artificial Colors
Made in the Kingdom of the Netherlands
Aftershave Splash:
Four ingredients: Alcohol, Water, Fragrance, Menthol.
Contains no artificial colors, emulsifiers, petroleum, or silicones, phthalates, or parabens.
Made in the U.S.A.
Aftershave Balm:
Soothes & Relieves, Moisturizes & Protects
Generously Fragranced
Active Ingredients Include Chamomile, Witch Hazel, Vitamin E, and Menthol
Handsome 100 ml Glass Bottle
Made in the USA