Posted by Marissa Neel on 20th Apr 2017

History:
Merkur was founded in 1896 by Emil Hermes who wished to become a safety razor manufacturer. His preferred company name (Hermes) was already taken, so he got clever and used the equivalent Roman messenger god, Mercury. This symbol of can still be seen on all of Merkur's packaging 121 years later!
Over the years Merkur has evolved into a dependable, highly recommended line of accessories. They are the #1 recommended starter safety razor for beginners and individuals looking to return to wet shaving.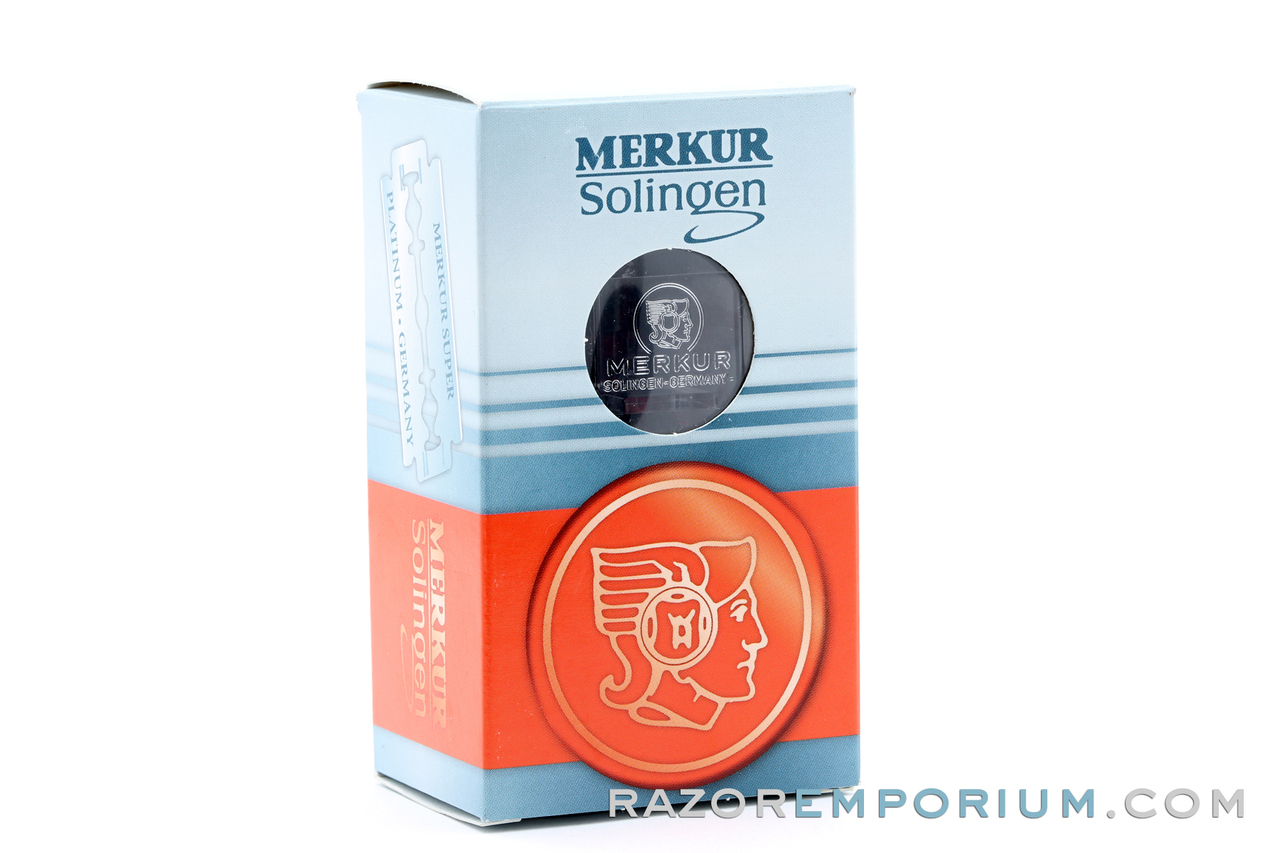 The Products:
Offering many different models and accessories, the Merkur line is classically styled, and machined with consistent accuracy. Heavy duty razors are available in varying handle lengths, widths, and head styles in either the classic 3 piece style or convenient 2 piece style. (The twist-to-open handle is retained while the cap lifts off.)
They are manufactured primarily from cast zinc and brass components, plated in chrome with good packaging. Merkur even offers adjustable safety razors!
Merkur Classic DE Wet Shave
Merkur Classic DE Wet Shave
---

The Merkur HD 34C Double-Edge Safety Razor is the best selling safety razor from Merkur and one of the top recommended DE;s on the market today. An ideal razor for those new to the wet-shaving routine. This top-selling razor features a sturdy "Heavy Duty" bulldog style handle which gives superb grip. The razor will accept all standard double edged blades.
We highly recommend this razor for all around performance and comfort- whether you have sensitive or normal skin, the 34C is a great choice because its head design is forgiving and has just the right amount of blade exposure. It's been reviewed on countless blogs and YouTube videos and for a good reason - it's certainly hard to beat.
Weight: 2.4 oz (68 g)
Length: 3 1/4" (8 cm)
Made in Germany
---
The Merkur Progress Adjustable Safety Razor is one of our best sellers. The adjustable blade gap makes this a razor every man should have in his grooming kit or shave den. With six different settings available, all you have to do is twist the razor handle to the setting that suits you best and you're ready for a shave that is tailored for your beard and skin. Say goodbye to ingrown hairs, bumps and skin irritation. Uses all standard double edge blades.
Bottom line- if you're looking to dial in the perfect shave - its hard to go wrong with this adjustable safety razor from Merkur. Highly recommended!
Chrome Plated
Weight: 3.2 oz (90 g)
Length: 3 1/2" (8.25 cm)
Made in Germany
---
The Merkur Slant Bar Double-Edge Safety Razor has an angled guard that performs a slight guillotine movement while shaving. This razor is known for its aggressiveness so would be perfect for coarse hair and paired up with the right blade, it is known to be great for sensitive skin too!
Often paired with FEATHER, KAI or GILLETTE PLATINUM blades, the secret to a close shave without irritation is a sharp blade and few passes. Reducing the number of passes will decrease friction and therefore irritation!
This DE was designed to just do 1 or 2 passes and deliver a Baby Butt Smooth (BBS) shave with ease! This razor will accept all standard double edged blades.
Weight: 2.4 oz (68 g)
Length: 3 1/4" (8 cm)
Made in Germany
---
Who Should Try It:
Many times, you'll read stories on shaving chatrooms about how a slant razor is challenging or it shouldn't be used if you're new to wet-shaving. Worry not, with the same attention to your angle and pressure applied during the shave, you should be able to get great results even if you are a beginner at traditional shaving. Merkur is a great company because there is truly something for every type of shaver! Women will love the classic chrome, long handles, and deep knurling for no slip shaves in the shower. Men will love the slant razors for coarse hair, thick HD handles, and extended lengths with every head type! Give Merkur a try and you'll be BBS in no time!