Posted by Marissa Neel on 17th Nov 2015
The perfect No Hassle gift for those wanting to try Double Edge Shaving or Straight Razor Shaving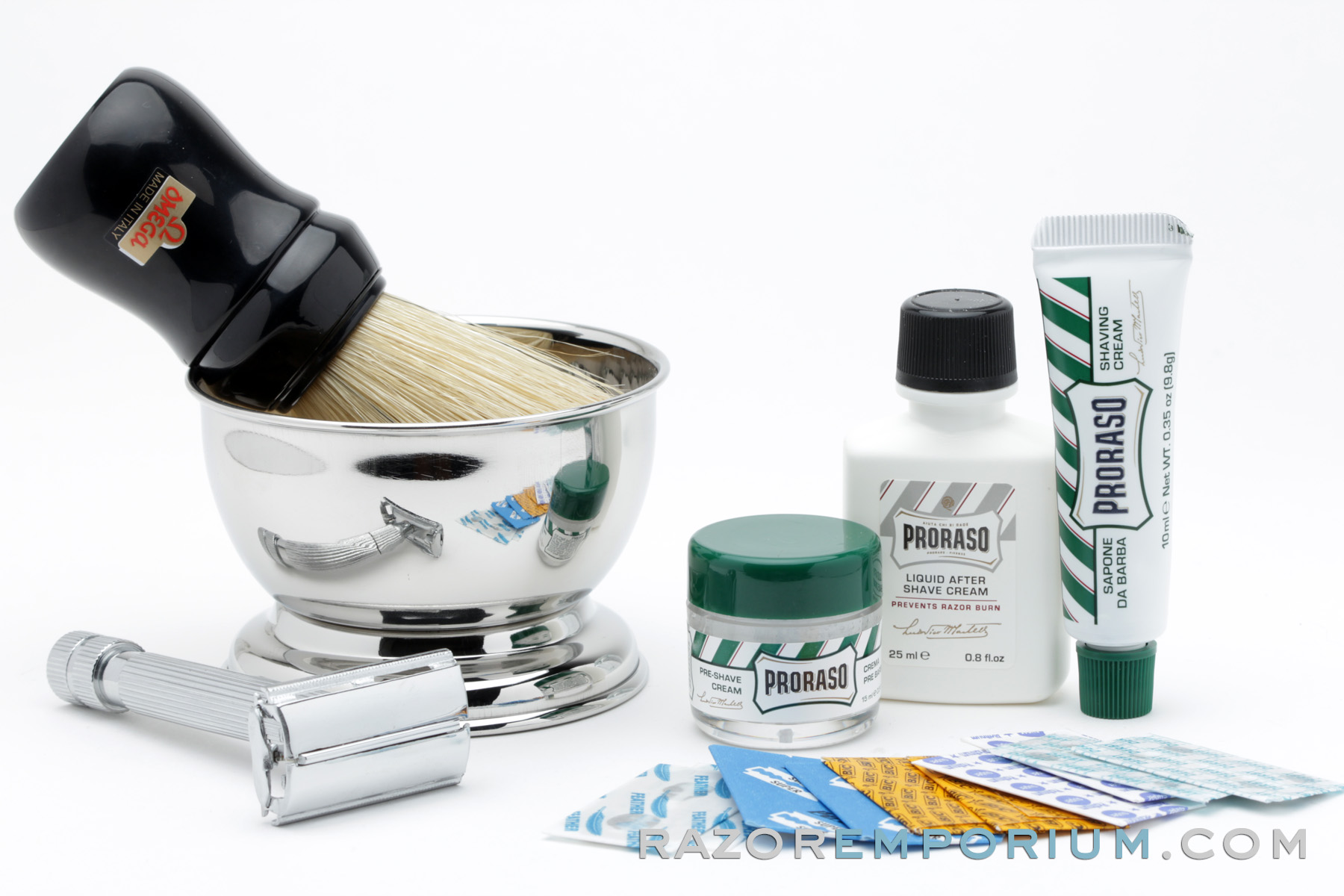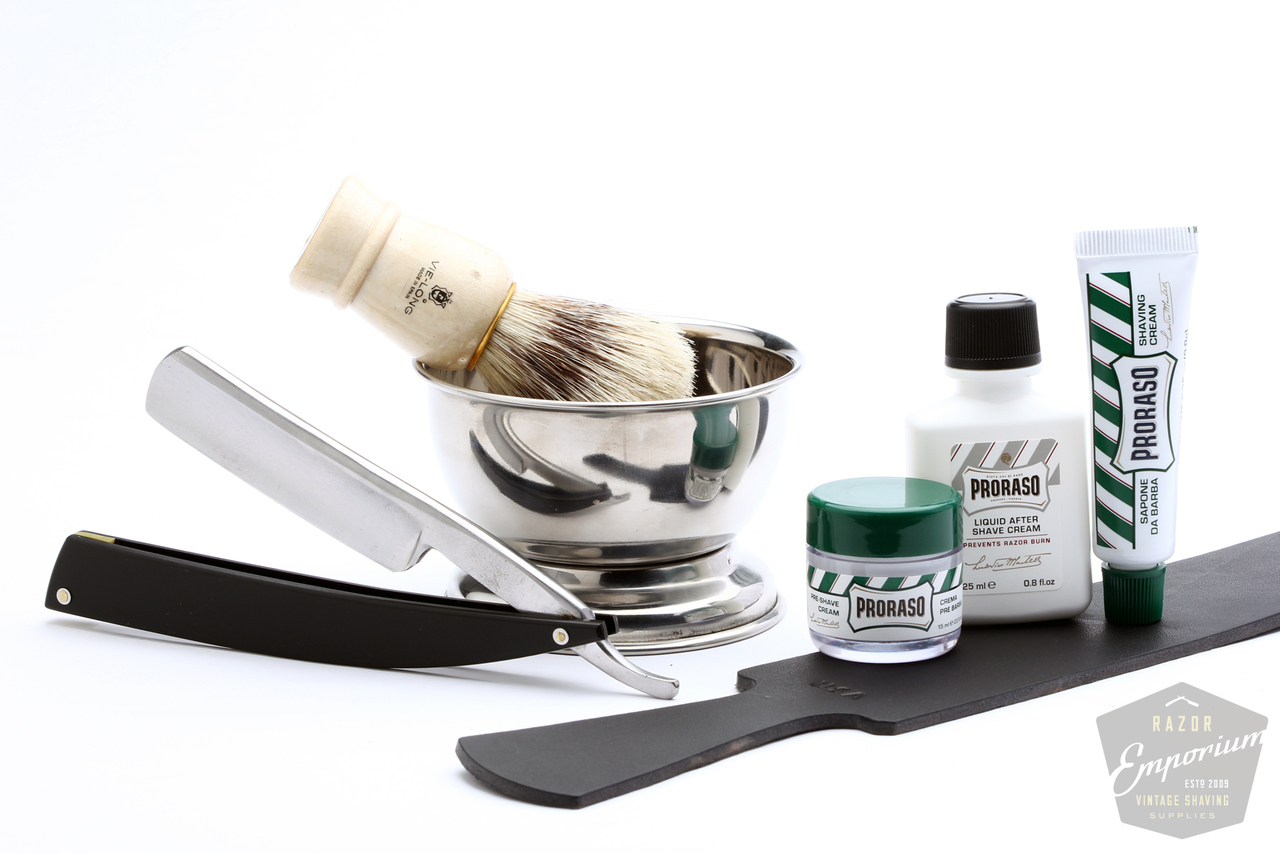 This kit is perfect for those who have always wanted to try wet shaving but were not certain of where to start.
We understand it can be overwhelming seeing so many varieties of products out there. That is why we have gathered the perfect kit together made for those who may be new or returning to the world of wet shaving. Wet shaving is the answer to so many struggling with the high cost of cartridge razors, or the cheap painful shaves from cartridge clubs.
Twist To Open DE Safety Razor
10 Assorted DE Razor Blades
Wetshave, Wet-shave, wetshaving, beginner wetshave kit, starter wetshave kit, best gift for him, best gift idea
Why these products?
The DE Razor: Twist to Open razors make loading and unloading your blade simple! This razor is not heirloom quality, but it is the perfect item to find out what all the wet shaving talk is about! New shavers will love the simple design and classic looks of this razor. The heft allows for perfect balance of this 77g razor. The handle is 86mm long, the perfect length no matter how large your hands are! The knerling allows for a secure grip that won't slip even when shaving in the shower!
The DE Blades: 10 Assorted Double Edge blades is the perfect amount to test some of the most popular brands. You will receive 5 brands, two blades each. This is because you can't really tell if you like a blade until you've shaved with it multiple times! Once you know what blades you like you can order in bulk and save some serious cash!
The Straight Razor: Fewer things are more iconic than the traditional Straight Razor. These razors can be very expensive or cheap and completely unusable. We've polled our experience to bring you an economical straight razor that is inexpensive and high quality. Our team has handcrafted custom handles in durable black acrylic and sharpened each razor with the same process we would restore a customer's heirloom straight razor. This straight razor's round tip, hollow ground, and perfect width will arrive 100% Shave Ready!
The Straight Razor Strop: No matter what you call it, strop, strap, or strope this is required part of Straight Razor Shaving. Honing/Sharpening removes metal and is done only occasionally. Stropping is the act of aligning the shaving edge on a strop so that it is comfortable before each and every shave. This strop is handcrafted in our shop from Arizona leather. Feel free to abuse it though, this strop is perfect to learn and make mistakes on. Once you become an expert stropper you can upgrade without fear of nicking your beautiful leather.
The Brush: Boar brushes are perfect to whip up a creamy lather fast! This Omega boar brush is highly recommended for its quality, soft bristles, and large size. The black handle is classic and ergonomically design so it will fit in your hands comfortably!
The Bowl: There are many ways to create that thick creamy lather every guy dreams of. Face lathering is popular for its health benefits, but mug lathering is still the most popular! This Chrome bowl can hold a puck 82mm wide. If your favorite puck is bigger just break it up and place at the bottom! Lathering is easy once you try it in person. Add a fair amount of water to your brush, squirt the Proraso soap into the bowl, and use a combination of swirls and speed until it resembles whip cream! Then, wet your face and swirl the soap into your beard. Use painting strokes against the grain to lift the hairs and you are ready to shave!
The Creams: Proraso is a world famous and highly recommended soap company. Their quality soaps represent the best of Italy and you will not be disapointed with the creamy lather and classic scent. This kit includes 3 steps to a great shave.
Proraso Precream is applied generously to your face
Build your lather with Proraso Shaving Cream and then apply to your face over the Precream
After shaving is complete, rinse your face with cool water and generously apply the Proraso Liquid After Shave Cream
All these products give shavers the ability to enjoy the highest quality shaves and a low cost. Pick yours up and give yourself the gift of a remarkable one-of-a-kind shave today!