Posted by Marissa Neel on 15th Jun 2017
History: Phoenix Artisan Accoutrements is the brainchild of Frances Towle (former owner of Petal Pusher Fancies) and Douglas Smythe (former owner of How To Grow A Mustache). They decided to leave the cold, wet life of the east coast for the dry desert climate of central Arizona! With a new location they choose a new mascot, the phoenix: rising from the ashes and a fresh start! Since moving to the west they co-founded the Big Shave West, an annual shaving event that brings shavers, artisan, retailers, and wet-tubers together.
The Products:
Phoenix Artisan boasts a large catalogue of unique shaving soaps, aftershaves, safety razors, and other accessories. Their vegan formula never disappoints, and their Crown King Kokum Butter formula is absolutely incredible! Douglas takes inspiration from everything around him, selecting the best vintage razors to reintroduce into the market at very affordable prices.
Scent Profile:
CAD: a classic barbershop scent. Unique, clean, and fresh!
Cavendish: rich, aromatic Cavendish Pipe Tobacco, a classic fragrance that takes you back to a simpler time!
Gondolier: classic, masculine, old world scent of Italy. A rich, balanced bouquet of rose, jasmine juniper & cedar.
Malbolge: a dark spicy blend including notes of tobacco, citrus, anise, musk, patchouli, sugar and black pepper.
Speakeasy: a classic cologne scent that is reminiscent of a bygone era. This scent does not smell like any kind of libation or spirit, but rather a mood (think The Great Gatsby). The scent notes are: Rose, Sage, Bergamot, Citrus, Wood, Amber
Sun Down: an homage to Gillette Sun Up, talc, oakmoss, lemon, petitgrain, bergamot, lavender, rose, animalic musk, clary sage, vetiver & sandalwood.
King R Emporium: Sourced from Gillette canisters of the 1900's this scent is a wonderful complex mixture like none other! Masculine, dark, light, and sweet, it is reminiscent of a better time.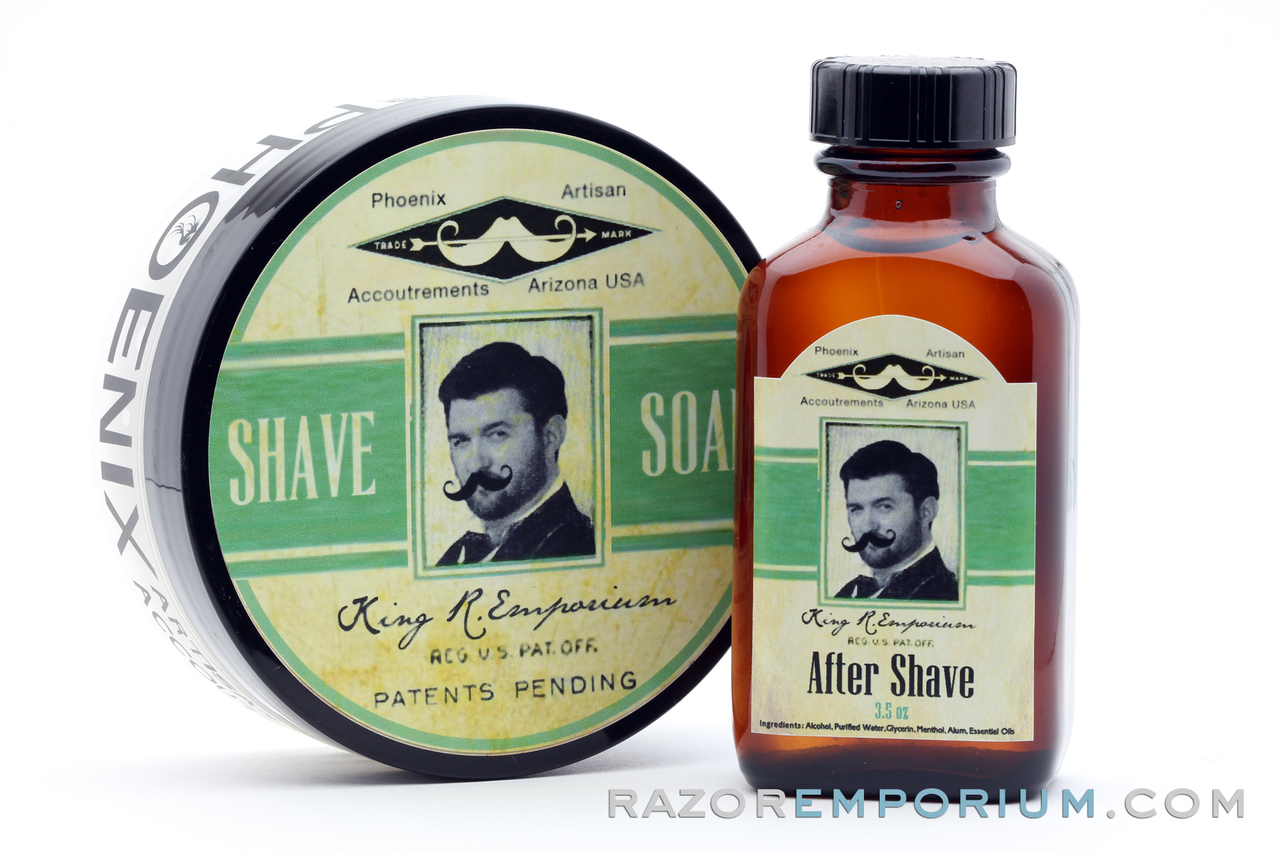 Who Should Try It:
Phoenix Artisan Acc. makes it easy to follow in love with their quirky branding a huge line of offerings. Whether you are a vintage connoisseur, a beard enthusiast, or a soap hoarder they have something for everyone! We especially recommend them for anyone looking to break away from the cookie-cutter classic scents and take the plunge into the crazy mind of Doug & Fran, you won't regret it!